Join Our Tribe Of Conscious Business People
For Good
We can do more, be more, and create more positive impact, together. Whether you're a purpose led business, social enterprise, not-for-profit, or just a business person looking to do good, this is your tribe. Join us and let's change the world.
There are thousands of conscious people living and working in the Northeast of Australia – and beyond. People who run or work for organisations that make decisions considering more than just profits. People who are dreaming up ways they can put their own spin on solving the challenges around us.
These amazing individuals are often doing good in isolation, unconnected, and continuously reinventing the wheel. Struggling alone, unnecessarily, in the good fight. We want to change all that.
To foster this tribe, we put on events. Our goal is to have regular, local gatherings across this region with the odd big bang, awesome enough for people to travel to. We're inspired by the global B Corp movement. We're for any organisation or person contributing to the greater good.
When we come together we can share ideas, be inspired and help each other grow. Leverage the power of the collective consciousness. Be energised by each other. Your tribe. Join us in the journey. Join your tribe.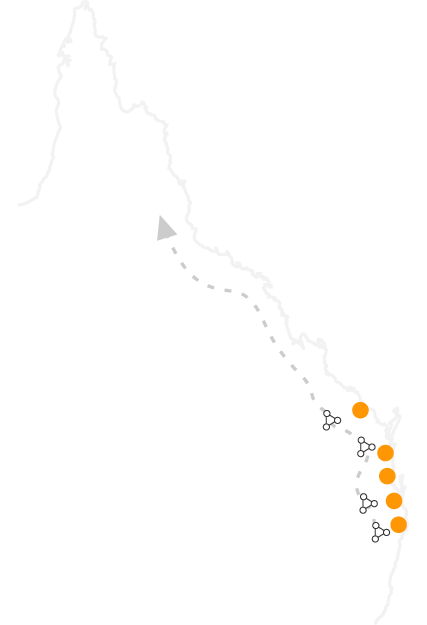 Business As A Force For Good
What Can
Businesses Do?
BUSINESS-AS-USUAL IS NOT ADDRESSING SOCIETY'S CHALLENGES

Socially minded entrepreneurs and organizations are contributing to the greater good in whatever ways we can and choose.
Some create quality jobs, some foster healthier environments, some build stronger communities, and some tackle societal issues.
Some seek to buy from responsible companies, work for organisations with shared-value mentality, do business with companies that show they care.
With society's infinite challenges and goals, it's imperative for businesses to take on some responsibility and lead endeavors when we can.
What is a
B Corporation?
B Corp is to business what Fair Trade certification is to coffee. B Corps are for-profit companies certified by the nonprofit B Lab to meet rigorous standards of social and environmental performance, accountability, and transparency.Many of our GoodNorth members are B Corps, look out for the logo on their member profile. But it's definitely not a pre-requisite! We are in inclusive community and welcome all people seeking to make a positive impact.
Is it Right for
My Business?
Interested in finding out more about B Corps? Connect with one of our members, attend one of our learning events, or check out the "Impact Assessment" that businesses must pass to become a certified B Corp. It's free and confidential, and lots of people say it's a useful tool to get you thinking about good business practice even if you never apply for certification.
0
+
BENEFIT CORPORATIONS IN 60 COUNTRIES